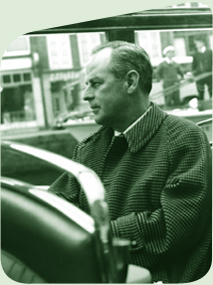 Migrating from Roumelia to Turkey Raif Dinçkök was born in 1912 in Selanik (Thessalonica) while his parents were emigrating to Turkey from the Doyran area in the former Yugoslavia during the Balkan War. After graduating from the Commerce High School in 1934, he embarked upon commerce, his father's metier.
The Dinçkök family, one of the well known and wealthy families of the city of Doyran, first emigrated to Izmir as a crowded group. Part of the family settled in Izmir taking the surname Doyran while the grandfather Ali Bey moved to Istanbul with his wife and children. Embarking upon contracting work and trade in Istanbul, Ali Bey took the surname Dinçkök in 1934. During those years grandfather Ali Dinçkök had the "Dinçkök" apartment building built in the Laleli district and lived there until he passed away.
Dealing in trade and contracting work in Ankara between 1934-1943, Raif Dinçkök came to Istanbul in 1943 and started yarn and fabric trade in Sultanhamam. Raif Dinçkök was rspected among his peers with his honest, serious and calm personality and was often resorted to as an arbiter in occasional disputes between businessmen.
From Trade To Industry
---
During the years he was involved in yarn and fabric trade, Raif Dinçkök embarked upon fabric weaving as an outsourcer. He thus began to gradually realise his vision as an industrialist. Following World War II, efforts to develop the private sector in Turkey bore fruit and the number of private sector industrial facilities increased rapidly. Raif Dinçkök, who was among these pioneering entrepreneurs was on the one hand involved in the establishment of the Istanbul Chamber of Industry whileat the same time he founded the Aksu Yarn Factory Bakırköy plant on 1st October 1952. Acting in full cognisance of the importance of investment and production for the country's economy, Raif Dinçkök founded other industrial establishments with his sons and professional staff in the years to follow including Ariş, Dinarsu, Aksa, Akal, Ak-Kim, Ak-Tops and Akenerji.
Modest Leader
---
His close friends described him as a calm and unpretensious person commanding respect with his modest personality. Being a great supporter of social functions he had an extraordinary ability for establishing dialogue and had exemplary leadership qualities. In addition to his membership in professional bodies, he was the member of numerous social organisations. As well as being a member of various foundations and associations he had served as the chairman of the Büyük Kulüp for fifteen years. His interest in sports found its solid expression in his services on the Board of Directors and and the Supreme Board of the Fenerbahçe Sports Club where he served with the enthusiasm of a fan.
Industrialist Raif Dinçkök, was one of the elected members of the Istanbul Chamber of Commerce which held its first assembly on 30 May 1952. He served on its Board of Directors from early on and served as the Chairman of the Board between 1956-1960. While being instrumental in enabling ISO to acquire its present building, from the earliest period of ISO until his decease "he served as the doyen of the Istanbul Chamber of Industry".
Managing By Making People Love What They Did
---
He is remembered by his business colleagues at work as a person whose relations with people was based on honesty and modesty. He had a management style whereby he made people love what they did. He was a manager with deep insight who knew how to learn from others' ideas very well and who valued team-work highly.
He was extremely disciplined, earnest and harworking in his daily life. He was an excellent listener during meetings, chose his words most carefully and took the most efficient and effective decisions by listening to what was said.
Raif Dinçkök who passed away on 25 February 1994 was posthumously awarded the "State Meritorious Service Medal" though the Council of Ministers' decree dated 17 December 1999 in recognition of "his significant contributions to the exaltation of the State and national interests"
In the memory of his colleagues and close friends Raif Dinçkök is remembered not only as a person who provided commendable services for the Istanbul Chamber of Industry but also as a person who devoted his life to the development of industry in the Turkish private sector, braved the hardships and responsibilities incumbent upon him by virtue of his capacity as an industrialist with great self sacrifice and perseverance, setting an example in the business world as an eminent person.